and afterwards...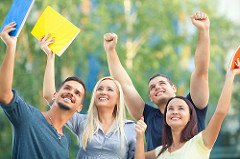 Professional outcomes
Career Oportunities
There is a significantly high rate of professional recruitment of students holding the Master Degree in Photovoltaic Solar Energy by UPM. According to our statistics, our graduates are already working in the field of photovoltaic solar energy, or else in the wider area of renewable energies.
Doctorate
The Doctoral Programme in Photovoltaic Solar Energy at IES-UPM constitutes an open possibility to continuous training. In this sense, our Master Degree is the perfect tool to underlie a solid research career in Solar Energy in any University in the world.
In addition, a specialized itinerary has been designed to commence the research activity from the beginning of the course, aiming to those students entering the Master Degree willing to obtain their PhD.

Back